Bottle shop closed for now- but free delivery!
By Jeff Zeitler on Thursday, March 26th, 2020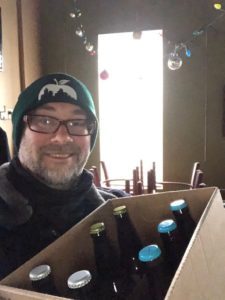 Our bottle shop is closing for now- at least until April 10th.  We can't risk getting sick, or getting you sick, so for now, it's online ordering only.
The upshot is- free delivery!  Yes, order and pay online and we'll deliver it to your home for free within 24 hours.  If we don't get it there within 24 hours, we'll gift you a free bottle.
The limits?  Well, you obviously have to be 21 or older.  Show us your ID through the storm door and take your mask off for a moment so we can see your face, and it's all good.  We'll leave the wine or cider on the porch, front stoop, or wherever you tell us to.  No human contact needed, so you can stay in self-quarantine and still knock back a bottle or two of rhubarb wine.
Another caveat- you have to live within the 694/494 beltway to receive delivery.  We love our customers in the outer suburbs and greater Minnesota, but we're delivering ourselves, and just can't make it everywhere.  If you live outside the limits, we will refund your order.
Questions?  Email us at urbanforagewinery@gmail.com
Want to order?  Here's the link.
Cheers