Events
Food trucks will be parked on Lake, in front of Urban Forage
As always, food trucks are independent businesses.  We can't tell you for sure what they will sell, the price or whether it is gluten-free or vegan.
We do our best to find trucks with options, and trucks that have delicious food!
May 25: 1:30 -9:00 PM  Taco Cat
June 28: 5:00-9:00 PM Natasha's Pierogies
July 27: 1:30-9:00 PM Taco Cat
Sept. 28: 1:30-9:00 PM Taco Cat
Every Thursday : Trivia Night, at 7 PM.  All original questions, topic of the week can be found here.
Every Sunday: Winery tour and tasting at 12:15 PM.  ($22 in advance) Take a tour of the basement winery and production facility at Urban Forage.  Taste a sampling of our offerings on tap, as well as samples of ciders and wines in production. Stay afterward in the taproom for an informal question and answer session.
July 3  Buy two bottles, get one free sale.  4-9 PM
July 11-14 Rhubarb week. Bring in your rhubarb stalks and get 10% off a bottle of rhubarb wine for each pound
August 31  Talk: The zero-waste yard.  Learn how to use yard waste to make your yard beautiful.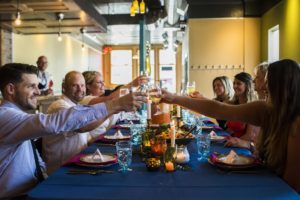 Are you hosting a bridal shower, birthday party, employee appreciation party, or political fundraiser?  We've hosted all of these and more!  Our capacity is 75 guests, so we're just the right size for a medium-sized event.
We charge $200 for a three hour facility rental and you can cater in food from any licensed vendor.  You can also decorate the facility however you like, so long as you clean it all up.
There are a couple of caveats.  You can't bring in outside drinks- we hope you'll buy ours.  You also have to book during our off hours, meaning not Thursday 4-9, Friday 4-10, Saturday 1-10 or Sunday 1-5.  Of course, that still leaves 144 possible hours in the week, so we should probably be able to make something work.
See the calendar below and email us at urbanforagewinery@gmail.com if you have questions or would like to book a date.
August 8: Seinfeld
August 15: The Simpsons
August 22: Northern Exposure
August 29: The Golden Girls
September 5: The Office
September 12: The Avengers
September 19: Harry Potter
September 26: Friends
October 3: Stranger Things
October 10:  The Walking Dead
October 17:  Death Cults
October 24: Harry Potter – the Cruciatus Round
October 31: Serial Killers
November 7: Ponzi schemes & famous frauds
November 14: Pokemon
November 21: Friends
November 28: Thankfully, there is no trivia today