Events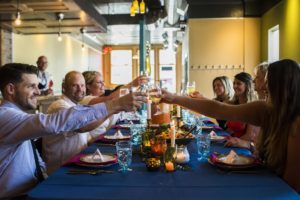 Are you hosting a bridal shower, birthday party, employee appreciation party, or political fundraiser?  We've hosted all of these and more!  Our capacity is 75 guests, so we're just the right size for a medium-sized event.
Right now, we're a new taproom and people are still figuring out we're here, so this year we are only charging $150 for a four hour facility rental.  That's it.  And, you can cater in food from any licensed vendor- we don't play favorites.  You can also decorate the facility however you like, so long as you clean it all up.
Of course, that comes with some caveats.  You can't bring in outside drinks- we hope you'll buy ours.  You also have to book during our off hours, meaning not Thursday 4-9, Friday 4-11, Saturday 2-11 or Sunday 2-6.  Of course, that still leaves 143 possible hours in the week, so we should probably be able to make something work.
See the calendar below and email us at urbanforagewinery@gmail.com if you have questions or would like to book a date.
Every Thursday : Trivia Night, at 7 PM.  All original questions, topic of the week can be found here.
Every Sunday: Winery tour and tasting at 2 PM.  ($18 in advance) Take a tour of the basement winery and production facility at Urban Forage.  Taste a sampling of our offerings on tap, as well as samples of ciders and wines in production. Stay afterward in the taproom for an informal question and answer session.
October 12, 4-11 PM.  Date Night with 99 candles
October 13, 12-5.  Craft Brew Pedaler comes to Urban Forage
October 17, Slow Flow Yoga and Wine at Urban Forage- by Om Brewers
October 25-31.  Three Broomsticks week.  Urban Forage becomes Harry Potter's favorite pub for a week!
October 31 4-11 PM.  Trick or Treat.  Wear a costume, get $1 shots of cider all night!
November 2, 4-11 PM.  Our first Tappiversary.
November 7, 6-8 PM.  Gluten-free tasting evening
November 14, 6-9 PM.  CSA/CFL social
November 16, 7-9 PM. Vegan meat raffle
December 23.  Festivus!
November 29: Home Alone
December 6: Real world death cults
December 13: The Office
December 20: The Nutcracker
December 21: Seinfeld
December 27: Game of Thrones:  Seasons 3 and 4
January 3: Breaking Bad
January 10: Dr. Seuss
January 17: The Big Lebowski
January 24:  Tropical world Geography (picture round)
January 31: Groundhog Day
February 7: Friends
February 14: 1990's romantic comedies
February 21: Harry Potter
February 28:  I heart Huckabees
March 7: Star Wars
March 14: Irish punk rock
March 21: Game of Thrones: Seasons 5 and 6
March 28: Sesame Street
Be sure to check here before heading to dinner!
October 18: Natasha's Pierogies
October 19: Natasha's Pierogies
October 25: Potter's Pasties
November 2: Natasha's Pierogies
November 16: The Herbivorous Butcher
December 23: