Events
Every Thursday : Trivia Night, at 7 PM.  All original questions, topic of the week can be found here.
Every Sunday: Winery tour and tasting at 1:15 PM.  ($22 in advance) Take a tour of the basement winery and production facility at Urban Forage.  Taste a sampling of our offerings on tap, as well as samples of ciders and wines in production. Stay afterward in the taproom for an informal question and answer session.
Feb 1: Date Night with 99 candles
Feb 13: Slow Flow Yoga w/ Om Brewers 7-9 PM
Feb 14: Date Night with 99 candles and live classical guitar
Feb 17: Mandala Stone painting and wine 2:30 PM
Feb 20: Panel discussion: How to start a winery, distillery or brewery
Feb 22: Midwinter Festival of Hotdish 5-7 PM
Feb 22: QuOTeD podcast on site.  7-9 PM
Feb 23: Hardscaping with found objects; talk.  4:30 PM
March 1: Poetry Open Mic. 8:00 PM
March 9: Edible landscaping in the city; talk. 4:30 PM
March 9: Fellow Pynins.  7-9 PM
March 23: The Gated Community 6-8 PM
March 27: Clay Arts Vegas opening 11 AM
March 27-30 : Clay Arts Vegas, UND ceramics residency
April 27: Papa Bleu and the Fistbump Congress 7 PM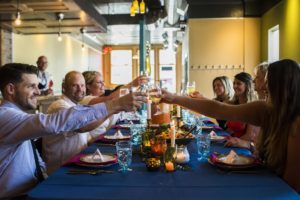 Are you hosting a bridal shower, birthday party, employee appreciation party, or political fundraiser?  We've hosted all of these and more!  Our capacity is 75 guests, so we're just the right size for a medium-sized event.
We charge $200 for a three hour facility rental and you can cater in food from any licensed vendor.  You can also decorate the facility however you like, so long as you clean it all up.
There are a couple of caveats.  You can't bring in outside drinks- we hope you'll buy ours.  You also have to book during our off hours, meaning not Thursday 4-9, Friday 4-10, Saturday 1-10 or Sunday 1-5.  Of course, that still leaves 144 possible hours in the week, so we should probably be able to make something work.
See the calendar below and email us at urbanforagewinery@gmail.com if you have questions or would like to book a date.
January 31: Groundhog Day-the movie
February 7: No trivia today.  Sorry!
February 14: 1990's romantic comedies
February 21: Harry Potter
February 28:  I heart Huckabees
March 7: Star Wars: the first three
March 14: Irish punk rock
March 21: Game of Thrones: Seasons 5 and 6
March 28: Ceramics trivia (NCECA week)
April 4: The Brady Bunch
April 11: Harry Potter
April 18: Friends
April 25: The Office
May 2: Seinfeld