Events
Trivia happens every Thursday at 7 PM and after Memorial Day. we'll be hosting trivia on Wednesdays, so you can pack to go up north on Thursday night.  We go back to Thursdays after Labor Day.
Please purchase tickets in advance on Eventbrite.  Tickets will not be sold at the door if we sell out or if we reach 80% of our ticket total.
May 19: Harry Potter
May 26: The Simpsons
June 1: Friends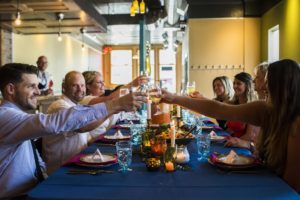 Are you hosting a bridal shower, birthday party, employee appreciation party, or political fundraiser?  We've hosted all of these and more!  Our capacity is 75 guests, so we're just the right size for a medium-sized event.
We charge $400 for a three hour facility rental and you can cater in food from any licensed vendor.  We provide you with 20 free drink tickets as a part of the event. You can also decorate the facility however you like, so long as you clean it all up.
There are a couple of caveats.  You can't bring in outside drinks- we require you to buy ours.  You also have to book during our off hours, meaning not Wednesday 4-9,  Thursday 4-9, Friday 4-9, Saturday 1-9 or Sunday 1-5.  Of course, that still leaves 141 possible hours in the week, so we should probably be able to make something work.  If you simply must hold a small event during our open hours, email us and we will see what we can do.  We try to accommodate everyone.
See the calendar below and email us at urbanforagewinery@gmail.com if you have questions or would like to book a date.
Every Thursday at 7 PM, in the taproom.
Themes include:
Seinfeld
Disney movies
The Office
The Avengers
Friends
The Mandalorian
Can you pass the US Citizenship test?