Events
September 23rd: Bobb Fantauzo:  Eclectic ambient jazz played on unique instruments.  7 PM
October 7th:  Lisa D Music.  Local guitarist and songwriter, all original music and guitar.  7 PM
October 21st: Pete Hofmann.  Classical and flamenco guitar.  Old standards and new compositions.  7 PM
Trivia is back to Thursdays this fall, with a few extra nights around Halloween this year!  We added a kid-friendly Harry Potter Friday night this year during our Three Broomsticks week, and True Crime (not kid-friendly) on Halloween day!
Please purchase tickets in advance here on Eventbrite.  Tickets will not be sold at the door if we sell out or if we reach 80% of our ticket total.  Event will be cancelled if no tickets are sold 24 hours before the event would start.
September 22: Friends
October 6: Harry Potter
October 13: Musicals!
October 20: Houseplants
October 27: Harry Potter
October 28: Harry Potter (kid-friendly)
October 31: True Crime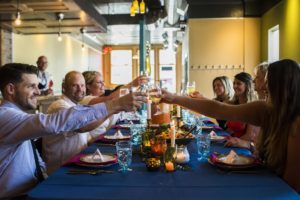 Are you hosting a bridal shower, birthday party, employee appreciation party, or political fundraiser?  We've hosted all of these and more!  Our capacity is 75 guests, so we're just the right size for a medium-sized event.
We charge $400 for a three hour facility rental and you can cater in food from any licensed vendor.  We provide you with 20 free drink tickets as a part of the event. You can also decorate the facility however you like, so long as you clean it all up.
There are a couple of caveats.  You can't bring in outside drinks- we require you to buy ours.  You also have to book during our off hours, meaning not Monday 4-9, Wednesday 4-9,  Thursday 4-9, Friday 4-9, Saturday 1-9 or Sunday 1-5.  Of course, that still leaves 136 possible hours in the week, so we should probably be able to make something work.  If you simply must hold a small event during our open hours, email us and we will see what we can do.  We try to accommodate everyone.
See the calendar below and email us at urbanforagewinery@gmail.com if you have questions or would like to book a date.
Every Thursday at 7 PM, in the taproom.
Themes include:
Seinfeld
Disney movies
The Office
The Avengers
Friends
The Mandalorian
Can you pass the US Citizenship test?