Events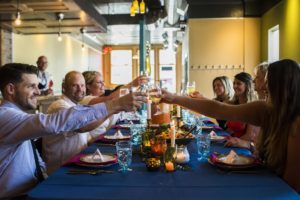 Are you hosting a bridal shower, birthday party, employee appreciation party, or political fundraiser?  We've hosted all of these and more!  Our capacity is 75 guests, so we're just the right size for a medium-sized event.
We charge $200 for a three hour facility rental and you can cater in food from any licensed vendor.  You can also decorate the facility however you like, so long as you clean it all up.
There are a couple of caveats.  You can't bring in outside drinks- we hope you'll buy ours.  You also have to book during our off hours, meaning not Thursday 4-9, Friday 4-9 or Saturday 1-9.  Of course, that still leaves 151 possible hours in the week, so we should probably be able to make something work.
See the calendar below and email us at urbanforagewinery@gmail.com if you have questions or would like to book a date.
Every Thursday at 7 PM, in the taproom.
Themes include:
Seinfeld
Disney movies
The Office
The Avengers
Friends
The Mandalorian
Can you pass the US Citizenship test?