Hold your event at Urban Forage
By Jeff Zeitler on Tuesday, July 10th, 2018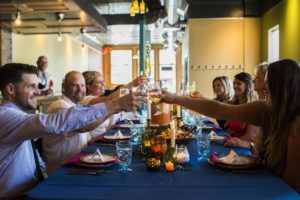 Are you hosting a bridal shower, birthday party, employee appreciation party, or political fundraiser?  We've hosted all of these and more!  Our capacity is 75 guests, so we're just the right size for a medium-sized event.
We charge $400 for a three hour facility rental and you can cater in food from any licensed vendor.  We provide you with 20 free drink tickets as a part of the event. You can also decorate the facility however you like, so long as you clean it all up.
There are a couple of caveats.  You can't bring in outside drinks- we require you to buy ours.  You also have to book during our off hours, meaning not Monday 4-9, Wednesday 4-9,  Thursday 4-9, Friday 4-9, Saturday 1-9 or Sunday 1-5.  Of course, that still leaves 136 possible hours in the week, so we should probably be able to make something work.  If you simply must hold a small event during our open hours, email us and we will see what we can do.  We try to accommodate everyone.  Email us at urbanforagewinery@gmail.com or stop in person to get the ball rolling.