Hold your event at Urban Forage
By Jeff Zeitler on Tuesday, July 10th, 2018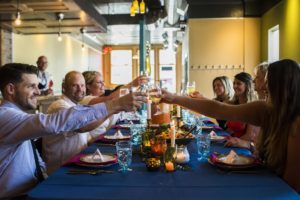 Are you hosting a bridal shower, birthday party, employee appreciation party, or political fundraiser?  We've hosted all of these and more!  Our capacity is 75 guests, so we're just the right size for a medium-sized event.
Right now, we're a new taproom and people are still figuring out we're here, so this year we are only charging $150 for a four hour facility rental.  That's it.  And, you can cater in food from any licensed vendor- we don't play favorites.  You can also decorate the facility however you like, so long as you clean it all up.
Of course, that comes with some caveats.  You can't bring in outside drinks- we hope you'll buy ours.  You also have to book during our off hours, meaning not Thursday 4-9, Friday 4-11, Saturday 2-11 or Sunday 2-6.  Of course, that still leaves 143 possible hours in the week, so we should probably be able to make something work.
See the calendar below and email us at urbanforagewinery@gmail.com if you have questions or would like to book a date.