About us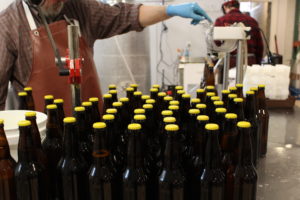 Each summer and fall, we pick apples, pears, plums and cherries off of city residents' fruit trees and local small orchards with permission of the landowners. We also harvest rhubarb, dandelions, hops and other flowers in season if they are offered to us.
Contact us at urbanforagewinery@gmail.com if you have fruit or flowers you'd like us to pick.
All our products are made in small batches with minimal processing in our stainless steel casks and oak barrels. Most of the work is done by hand with simple machinery.  Chemical shortcuts aren't our thing, and we do all we can to avoid them.  You can call it natural wine or natural cider; we just call it good.  We are not a certified organic facility, but we do source almost all of our ingredients from unsprayed yards and orchards as well as from certified organic producers.
Our taproom is open Mondays 4-9, Thursdays 4-9, Fridays 4-9, Saturdays 1-9 and Sundays 1-5.  We have some of the best hard cider on draft you'll ever taste.  We also sell our mead, cider and wine by the bottle and growler for on-site or off-site consumption.  The products that we have for sale depend on the time of year and on how fast our limited inventory is selling. Check our menu page to see what we currently have in stock.