Come pick grapes with us
By Jeff Zeitler on Tuesday, August 17th, 2021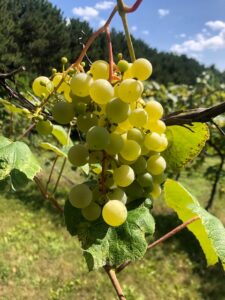 As the duck at the lemonade stand asks:  Do you have any grapes?
Then he waddles away.  Til the very next day.
You need not waddle away.  You can walk in a dignified manner down rows of manicured vines and pick deliciously ripe clumps of Edelweiss grapes with us on Friday the 27th.  The sign up link is here.
Details are on the Eventbrite page.  It's free to pick, but seats in the Urban Forage minivan are limited, so sign up soon if you aren't driving yourself.
And if you are allergic to bee stings, please sit this one out.  Yellowjackets love grapes, and we may see a few.  This year I haven't seen any, but that doesn't mean that they're gone, just hiding.
Other than that, harvesting grapes is as fun as it sounds.  See you there.