Extra hours for Thanksgiving week
By Jeff Zeitler on Sunday, November 20th, 2016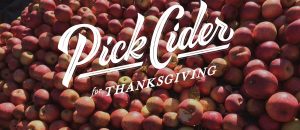 So you already know that cider (especially our semisweet cider) pairs really well with turkey, and you're planning to surprise your in-laws with a bottle of local mead for the dessert course.  But you're wondering just when the heck you'll be able to stop by at Urban Forage because our open hours are so limited.
Well- we're going to fix that.  We're open Monday, Tuesday and Wednesday next week from 3-6 PM so you can pick up whatever you like in plenty of time for Thanksgiving.  If you think you might like to try everything we've made in the last year, we have sampler packs with six full-size bottles of mead, cherry cider, apricot cider, pear cider, semisweet cider and dry cider at a special discounted price.
We'll also be open our normal hours- Friday 4-8 PM and Saturday 12-4PM, with a Small Business Saturday Market on site November 26th, featuring a half dozen local artists, clothiers and jewelry makers.  Stop in and see us.  We'll be glad to see you!