Our Products
Dry cider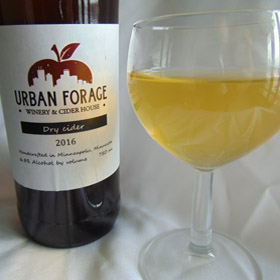 This is the first product we produced, and in many ways still the best.  The true essence of Minnesota apples in their finest form, with a bit of sparkle.  With no added sugar, this is a bracing, refreshing drink for a beautiful Minnesota day, winter or summer.    Available at our bottle shop at 3016 East Lake Street.  $12.99/ 22 oz. bottle plus tax.
Semisweet Sparkling Cider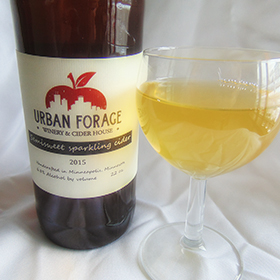 Our semisweet sparkling cider is a fruity and tingly version of our dry cider, made from the same local apples, but lightly sweetened and lightly sparkling.  It's gluten-free and semisweet in the style of a British cider and not overly carbonated.  Enjoy it with food and friends.  Available in select Twin Cities liquor stores and at our bottle shop.  $12.99/ 22 oz. bottle plus tax.
Dandelion Wine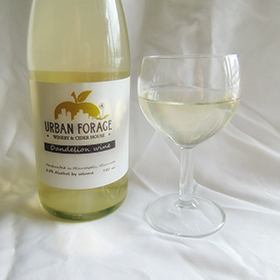 This is one of our favorite recipes- wine made from Twin Cities dandelions.  We picked the flowers last spring and the wine is finally ready for purchase.  Floral, light and just slightly bitter.  This is a truly unique wine found in few other places.  375 ml/$10.99 +tax
Honey Mead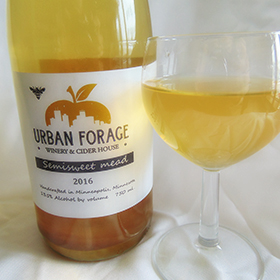 Mead!  Honey Mead.  Made from honey, purified water and yeast.  A heavy-bodied slightly sweet nectar of the gods.  You need not wear tights or chainmail to enjoy mead.  It's quaffed by folk of all sorts.  Higher alcohol than a cider, so please drink responsibly!  $17.99/750 ml. bottle plus tax.

Gin Botanical Cider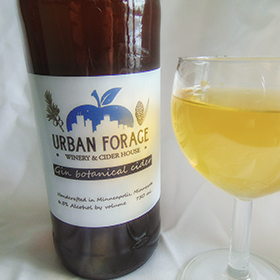 We were fortunate enough to receive a bounty of spent gin botanicals- the spices that give gin its distinctive flavor- from Lawless, a distillery located in neighboring Seward.   They included juniper berries, coriander and black pepper along with other herbs.  When we infused our dry cider with them, it created a tongue-tickling combination.  A truly unique cider unlike any other we've made.  Available at our bottle shop and at select liquor stores.  $12.99/ 22 oz. bottle plus tax.
Pear Cider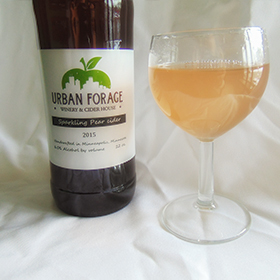 Pear cider is notoriously difficult to make, but we think you'll agree when you try this, that we nailed this one.  Crisp, tart and refreshing.  Two parts green pear, one part green apple adding up to true fruit flavor and bit of a kick at the end.  Absolutely delicious.  $12.99/22 oz. bottle plus tax. Only while it lasts and only in our bottle shop.
Coming Soon
Maple & Oak cider: An oaked, barrel-aged and maple syrup sweetened cider.  Our batch last year won a medal at an international cider competition.  We think this batch may be even better!
Blackcurrant cider: exactly as it sounds, and delicious! Local currants and local cider combine to make something gorgeous on your tongue.
Red grape wine:  We are working on partnering with another local winery to have a red wine available in our taproom and possibly even in bottles sometime soon.  We're new to this sort of collaboration, so stay tuned.
Rhubarb wine is coming back in a short while.  Be patient.
Where To Buy
At the moment, our Semisweet Sparkling Cider, Gin Botanical Cider and Semisweet Mead are for sale in:
Minneapolis: Surdyks, Zipps, Elevated, Skol Liquors, South Lyndale Liquors, Sentyrz, Haskells, Lake Wine and Cheese, Eastlake, 1010 Washington, Falls Liquor, Val-U Liquors, Central Ave. Liquors, Skyway Wine and Spirits and Minnehaha-Lake Beer,Wine and Spirits.
St. Paul: Kowalski's Wine Shop on Grand, Thomas Liquors, Sharrets, Scotts Liquor, Midway Liquor, The Wine Thief and the 7th Street Liquor Barrel.
St. Louis Park: Westwood Liquors, Liquor Boy, MGM Wine & Spirits and Top Ten Liquors
Edina: Edina Municipal Liquor
Lilydale: Sunfish Cellars
Minnetonka: MGM Wine & Spirits
White Bear Lake: Elevated Wine, Beer and Spirits.
Mound:  Harbor Wine and Spirits
Others are for sale only at our winery and bottle shop at 3016 East Lake Street in Minneapolis on Fridays and Saturdays.  Call us at (651) 235-2726 if you plan to stop in at a time other than our regular hours.
Urban Forage Bottle Shop Hours
Thursday 4-10
Friday 4-10
Saturday Noon-10