Afternoons are best spent in a sunbeam
By Jeff Zeitler on Friday, October 21st, 2022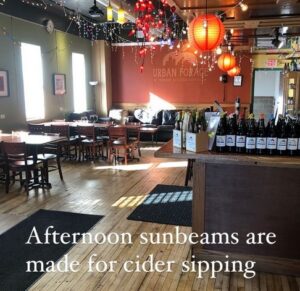 These fall afternoons are gorgeous, aren't they?  A bit chilly at times, yes, this is Minnesota, but still gorgeous.
One of the nicest things, in our opinion, about our taproom is the windows.  We have big, south-facing windows at the front of the room, and operable windows on the west side, so the afternoon sun can come streaming in.  Honestly, on a chilly but sunny day there's no nicer place to sit and sip a glass of wine.
Come sit in a chair and read for a while or have a conversation with a friend.  We don't play loud music, so you'll be able to hear each other and perhaps catch up on the last two and a half years.
We hope to see you soon.