All reds and pinks on tap this weekend!
By Jeff Zeitler on Thursday, February 11th, 2021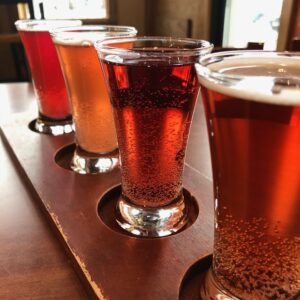 This is our flight this weekend, Thursday-Sunday.
All red and pink beverages.  The always popular blackcurrant cider,  the new favorite cran-cherry cider, the upstart Vin de Pomme Rose', and a mystery tap.
What is this mystery tap, you ask?  Well, you'll have to come find out.  A flight of cider will set you back $11.
Oh, and we have flowers.  Tulips, specifically.  Stop and smell them.  And bring your sweetie.  Because – reminder- there's a holiday this weekend that you'd better not forget!
We're open Thursday 4-9, Friday 4-9, Saturday 1-9 and Sunday 1-5.
Cheers!