Clearance sale this week
By Jeff Zeitler on Thursday, January 12th, 2023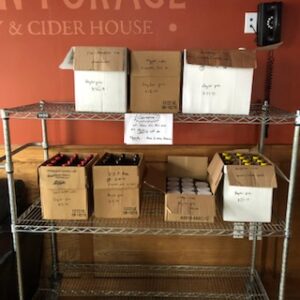 Our January clearance sale is back!
If you've been watching our website for a while you know that each January we take stock of what we have too much of, then sell it off in a sort of Dutch auction- getting cheaper each day until it's gone. This year is no exception!
Today (Thursday) everything on the clearance rack will be 30% off
Friday, everything on the rack will be 40% off
Saturday, same, 50% off
Sunday, everything remaining on the rack will be 60% off
And if stuff is left after that- well- we'll just have to figure that out next week.
Of course, there's less to choose from this year as we've trimmed back our bottling volumes, leaving less in stock overall at any given time. Still, there's a few goodies to choose from- Dandelion wine with a small stain on the label. Hopped cider that's sorta flat but still tasty. Some lilac-dandelion wine that we've had in stock for too long and forgot about. A case of vin de pomme rose that we discontinued a while ago.
All of it has to go. Most is perfectly fine, excepting a few stained or wrinkled labels, or a mismatched cap or two.