Construction update: 2nd week of August
By Jeff Zeitler on Wednesday, August 16th, 2017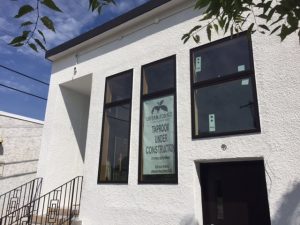 Exterior work is finished!
Well, except for the sign and the lighting and a bit of paint on the steps, but otherwise we are done with the outside of the building, and if you ask me, the paintjob looks pretty sharp!
We continue to work on the interior- hopefully finishing up sheetrock this week, and are within spitting distance of having an operable HVAC system and chairlift.  These are exciting times!