Construction update: May, week 3
By Jeff Zeitler on Thursday, May 18th, 2017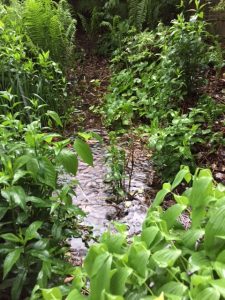 This week in construction:
We installed our final window and now only have the door for the ADA lift to install!  The front of the building looks completely different, and we can't wait to take down the plywood wall and show you.
We also finished the drywall ceiling and completed the structural updates needed to begin installation of the new heating and cooling system.
While this was going on, we also got our first 2017 batch of dandelion wine going in the tank in the basement.
And it rained!  A lot!  The rain garden that I dug in our yard in St. Paul 10 years ago, and which rarely fills with standing water, was a pond for a while this week.  It was so beautiful I had to post a picture of it- though it has nothing to do with construction or winemaking.  I just like it.
Cheers,
Jeff and Gita Z