Construction update: Third week of June
By Jeff Zeitler on Tuesday, June 27th, 2017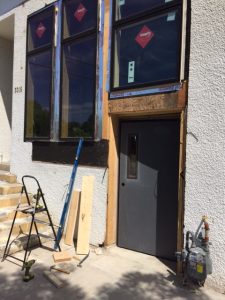 Our facade is starting to take shape now.  We were able to install the steel door and concrete stoop for our new ADA chairlift last week, and the lift installation company has begun the wiring for the lift.  We've installed the subfloor in the new bathroom and also finished all of the framing as well as the insulation for the front wall.
We've been shopping for light fixtures and have been getting interior design direction in order to move forward into the finer details and finishes of the taproom.  We hope to have the interior looking at least somewhat finished by our July 7th event.
Construction is exhausting, so we're taking some time off next week to go to a family wedding out of town, but my parents will be running the bottle shop, so you can be sure the service will be great.
Cheers!