Cork#9 presents Zeitler trivia!
By Jeff on Friday, November 14th, 2014
Did you know that Jeff led a group of volunteers that would establish one of the largest community gardens in the Twin Cities? Today Merriam Station hosts 65 families and will expand by another 20 plots next year.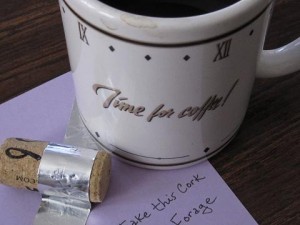 Just like Urban Forage seeks to make the best use of our local resources by using fruit gleaned from backyards everywhere, Merriam Station has been composting coffee grounds collected from area shops. Cork#9 is on the bulletin board of one of those shops, which are listed here. Find it and we'll give you an Urban Forage t-shirt.
Just like Merriam Station has flourished, Urban Forage Winery & Cider House will too. Both have attracted good people who share a vision of strong, sustainable communities.
Learn how you can be involved.
For more information, see Capture the Cork.