CSA pickups: 3rd and 4th Fridays of the month
By Jeff Zeitler on Thursday, February 25th, 2016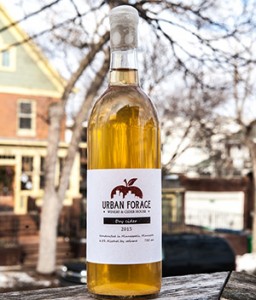 Hi to everyone, especially to those who backed us at the CSA level during our kickstarter campaign.  There are almost 100 of you, so it took us a bit of time to have the inventory and the level of organization to be able to fulfill the terms of the CSA- which include a bottle of a select wine or cider each month, and of course our endless gratitude.
The rules of the road are:
Pick up your bottle on the 3rd or 4th Friday between the hours of 2-6 PM.  Hours will be adjusted as we have more daylight, but pickups will always coordinate with our open hours on Fridays.
Show an ID and sign our list of CSA members so we can see who picked up and who didn't so we can plan better for the future.  If you live or have moved outside the metro area, please email us at urbanforagewinery@gmail.com and we'll figure something out.
We look forward to seeing you at CSA pickup!  If you've been in before, please note that we're now at the front of the building, instead of in the basement.  No lovely views of the fermenters and bottling equipment, but more sunlight and a view instead of the empty room which will be the future taproom.
And as always, you are more than welcome to buy additional bottles when you pick up your CSA share!  We will always say yes to an additional sale.
Cheers,
Jeff and Gita Z