FOUND – Going Wild, Cork#7
By Jeff on Sunday, November 16th, 2014
On the way to get tickets for this afternoon's Wild game, Cork#7 enlisted the help of these fans. Because they were such good sports to take the time to pose in the freezing cold, we decided to let them keep the cork and claim their Urban Forage t-shirt.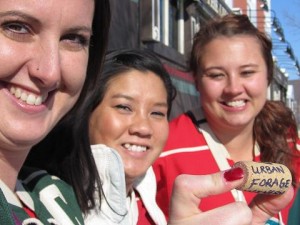 That's not all we're wild about over here at Urban Forage. We have the best supporters. The equipment drive is going strong because of friends, family and strangers alike who like what we're trying to do and who want to see us succeed. We are full of appreciation! Thank you!
Learn more about Capture the Cork.