Free cider flight if you take a selfie at a garage sale!
By Jeff Zeitler on Thursday, June 3rd, 2021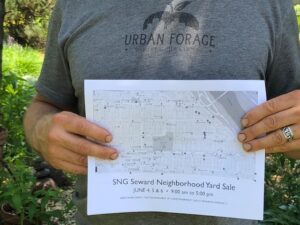 I love garage sales.  It's one of the best forms of urban foraging in my opinion, especially if you show up on the last day when people just want to give stuff away.  I've hosted garage sales, and I've shopped them and I've curb shopped afterward.  So, this weekend is like the World Series of garage saling- the Seward Neighborhood garage sale.  Click this link to go to the map and other details.
While we won't be hosting  a sale at the taproom, we're in close proximity, SO, here is our deal.  Take a photo at a garage sale this weekend (June 4-6) while wearing some Urban Forage swag.  Post it to Instagram or Facebook, then tag Urban Forage.  By doing that, you have earned a free cider flight.  Yes, for real.  You have to come to the taproom to collect, but we'll be happy to serve you.  Cheers, and happy shopping!
Jeff and Gita Z