Free parking right in front of the winery.
By Jeff Zeitler on Monday, June 25th, 2018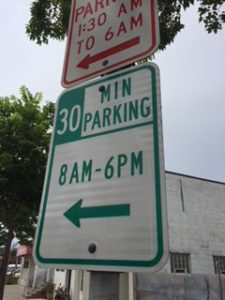 Did you know you can park right in front of the winery every day, legally, for as long as you want after 5:30 PM?  You can.  Yes, there are a lot of signs to read, including one about no parking between 1:30 AM and 6:00 AM, but we're not open then anyway.
So yes- feel free to park on the street in front.  We've noticed that there are a lot of free spaces even when we're busy, and most of the neighboring businesses are closed during our open hours- so feel free to take that nice parking space!  It's all yours.
In fact, even before 5:30, you could park for longer than a half hour and be just fine.  The half hour rule has never been enforced for as long as we've been here.  Just don't leave a giant RV there for a week, please.
Cheers!