Gluten free? Yes we do.
By Jeff Zeitler on Friday, November 1st, 2019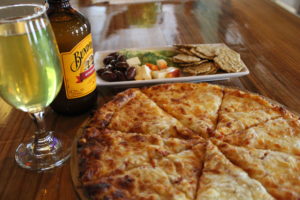 The best part is that you sacrifice nothing when you go without gluten at Urban Forage.  Our pizzas are made by Sabatasso's- with a crunchy crust that has just a hint of chewiness, and a red sauce to die for.
And the cheese trays?  Made with Crunchmaster rice crackers with some wonderfully crunchy, salty sesame seeds.  The cheeses and olives, are, as expected, gluten free.
And if you're not gluten-free?  You won't notice a thing.  Gluten-free doesn't mean flavor-free.  We select for quality, not just for what's not there.  So our food items can be enjoyed by anyone.
A pizza will run you $12, and a cheese tray (at the moment featuring herbal Sage Derby cheese and slightly spicy Queso Enchiladero along with kalamata olives) will run $8.  Not too shabby for a night out at a wine bar.  Pair with a glass of wine or cider (which I shouldn't have to mention- are also gluten-free) and you'll be on cloud nine.
Hope to see you soon!