Happy Cider Week!
By Jeff Zeitler on Wednesday, June 5th, 2019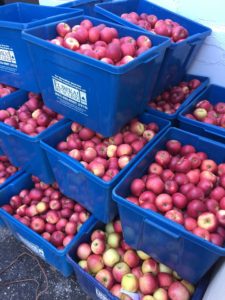 Happy cider week, cider people!  This is the week when everyone (well, not everyone, but a really really large number of people) are thinking about cider.  Specifically Minnesota cider- some of the best fermented apple product you're likely to find in the US of A.
For Minnesota Cider Week this year, we're doing a few special things:
-Thursday all day we have happy hour prices.  That means $4 pours of all ciders all night.  We also are hosting a special -all apple all the time- trivia night.  The winning team walks away with a pair of tickets to Cider Fest at Como Park!
-Friday night we host an art opening for two talented South Minneapolis artists, and will be featuring a new mystery cider that Shall Not Be Named.  So don't ask.
-Saturday we pour cider at Cider Fest, but if you aren't able to make it to Como Park, like maybe because you're allergic to drinking delicious things in the fresh air with a view of a gorgeous lake just beyond, or perhaps because you don't like having fun and getting tipsy on the good stuff with 1000 other cider lovers; you can still come to the Urban Forage taproom and have a cold one from 1-10 PM.
Sunday at 12:15 we give tours, but you have to sign up for those beforehand on Eventbrite and they cost money, but they're really good and you get samples.
On Monday, you get to go back to work, and we collapse in a heap on the floor at home and sleep all day.
See you this weekend!  And happy Minnesota cider week.
Cheers.