Hey- what's around the corner?
By Jeff Zeitler on Tuesday, November 19th, 2019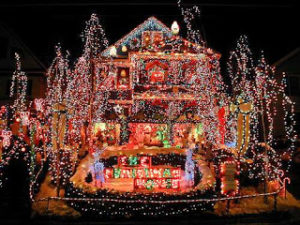 I think that would be the holidays, Jim.
And in fact, they are.  To celebrate, we are pulling out all the stops and decorating the taproom to the hilt.  We're putting out lights, ornaments and some random schmaltzy items with a bit of a retro Xmas feel.  It's going to be a lot of fun, and will run from the day after Thanksgiving until New Year's.
We'll also be bringing out a few new ciders for the season!  Hot spiced cider will be on tap most days, and a new cider (cold, but quite delicious) called O Tannin Bomb.  It's a high-tannin cider with an astringent bite, reminiscent of English ciders from the southwest corner of the island.
Do your wassailing here, and bring the kids!  We're looking forward to seeing you.
Cheers!