Introducing: Rhubarb Wine!
By Jeff Zeitler on Friday, May 12th, 2017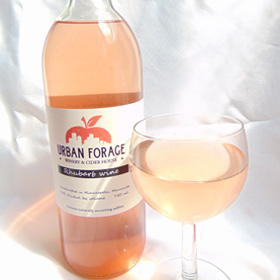 This has been a busy week with construction and a bit of dandelion foraging all happening at the same time that gardens need to be planted and kids are having their school plays.  We're business owners, but we're also parents and gardeners and still try to have time to stop and- as Garrison Keillor says- enjoy a slice of rhubarb pie.
If you happen to be one of the many Minnesotans who likes rhubarb pie- you may just love our new rhubarb wine.  We don't have a lot of it, but this batch really turned out well!  It's delicious, and very very pink.  You might want to have some for Mother's Day brunch, and we can't quite yet sell it to you on a Sunday so I suggest you plan ahead and pick some up this Friday between 3 and 7 or on Saturday between 1 and 5.
See below for the full description and pricing.  Cheers!
—————————————————————————
Like rhubarb pie in a bottle- just not as sweet- our light pink rhubarb wine will make your taste buds take notice.  Unlike anything else we've made, rhubarb wine is sweet and sour and deliciously different.  Our test batches have fared very well, and we're excited to bottle this all-foraged and uniquely Minnesotan wine.  At 9.5% alcohol, it packs a bit more of a punch than our ciders, but it still manages to be lusciously smooth and soft.  Limited edition will be for sale only as long as supply lasts.  Available only in our bottle shop. $17.99/ 750 ml. bottle plus tax.