It's swag week!
By Jeff Zeitler on Thursday, August 8th, 2019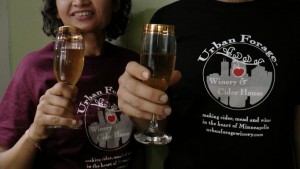 Swag week?  Yes, swag week.  Meaning, branded stuff with our logo on it.  Current logo or the old one (see above) are fair game.  Wear your shirt from our Kickstarter campaign, or a hat you bought last weekend, and your first glass of cider is free from August 8 til August 11.  If you are fortunate enough to have an Urban Forage pint glass from 2015, bring it in and we'll fill it for free!
You could even buy some brand new Urban Forage Gin Botanical soap, though I'm not sure exactly how you'd wear that.  Be creative and we'll see.
Cheers!