Last chance to drop off your apples
By Jeff Zeitler on Monday, October 10th, 2022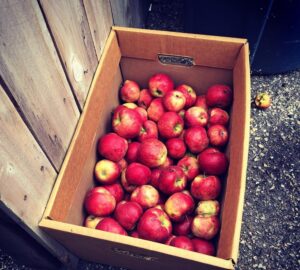 Yes, we pick apples, but sometimes the tree is too far away, or there just aren't enough to justify the trip to the yard to pick.  Yes, we have to make money- we're a for-profit business, though we don't make a profit all that often.  So, we pick where the pickings are best.
But, you may have a bunch of fruit that you've already picked and that you'd like to drop off.  If that's the case, be sure it didn't come off the ground (tree picked or shaken onto a tarp only) then leave it in a bucket, box or bag behind our building.  We'll find it in the morning and add it to our fruit waiting to be processed.
If you donate a bushel or more, we'll gift you some cider!  You'll have to stop in while our taproom is open to make that happen though. Fortunately we're open 6 days a week these days.
Cheers!