New brite tank on site now- distribution coming soon
By Jeff Zeitler on Saturday, April 2nd, 2016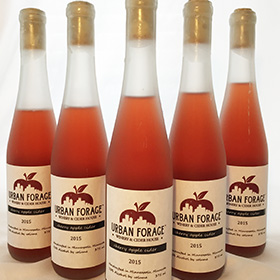 If you're a fan of shiny brewing equipment, you'll be excited to hear that we had a brite tank shipped from Portland and delivered to our building this week!  We received a 500 liter tank from Stout Tanks and Kettles and members of the Longfellow Homebrew Club helped get it into the building.  We'll be carbonating and bottling bigger batches from now on- which will be essential when we sign an agreement with a distributor- which will be coming soon.
In other news- our cherry-apple cider is beginning to run low- so if you are a fan- and I know that many of you are- get it before it's gone this spring.  We will have it again next fall, but most likely not in the same type off bottle.
Thanks for all of your support!  It's been fun to see so many people enjoying the fruits of our labor.  Keep stopping in on Fridays and Saturdays from 2 to 6 PM- we'll be rolling out some new creations very soon.
Cheers,
Jeff and Gita Z