New T-shirts are here!
By Jeff Zeitler on Friday, July 22nd, 2016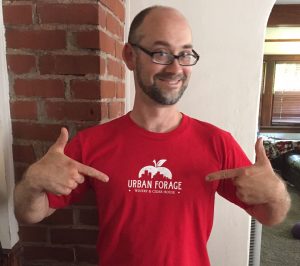 Our new Urban Forage t-shirts just arrived from the printer, and we can't wait to get them out to you.  They will be available for the first time at East Lake Open Streets, this Sunday, at our tent starting at 11 AM.
They're cool, comfortable and stylish shirts by American Apparel.  You're almost guaranteed to look better than Jeff with one of these on.  $20, available only at Urban Forage Winery and Cider House.  We've only ordered limited quantities, so if we're out of your size, know that we'll be ordering more pronto.