Our ciders– naturally gluten-free
By Jeff Zeitler on Sunday, January 31st, 2016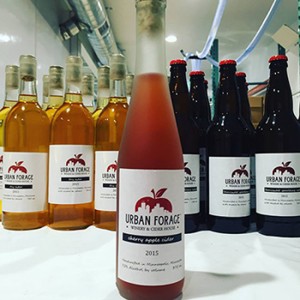 We've been heartened and slightly surprised by the demand for our semisweet cider and cherry apple cider in the last couple of days.  We're glad the neighborhood has embraced us to the degree that it has, and hope to be good neighbors in return!
We had a great night out at a new(ish) Seward restaurant tonight, Cafe Racer.  Jeff gave a talk about urban foraging and the differences between apples raised for color and shelf-stability and apples grown for cider, or simply left to their own devices.  The difference being- apples in the second category make much better cider.
We were also reminded tonight by Luis, head chef and owner of Cafe Racer, of the importance of letting everyone know that our products are all naturally gluten-free.  No removal process or special equipment needed.  Nothing with gluten ever needs to enter our winery- because we are just that- a winery.  We don't have a brewery license, and don't want one.  As such, we can't make beer, or ale, or graffs, or anything else that requires malt or grain.  And we don't want to.  As a winery we can only make beverages made from fruit, honey or flowers.  None of which contain gluten.
We haven't applied for any sort of official label that we'd put on our packaging, partly because we're worn out from all the red tape we've already had to cut through, but also because we hope it'll just be self-evident that apples and cherries and rhubarb and dandelions don't have any gluten and never will.
In case it's not- here it is:  everything we make is naturally gluten-free.
Cheers,
Jeff and Gita Z