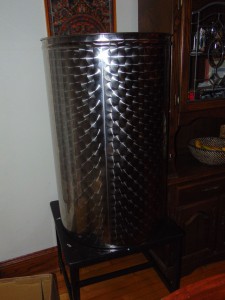 It's exciting to be able to announce the arrival of our first piece of professional-grade equipment- a 300 liter Italian-made stainless steel fermenter!     I have 14 gallons of dandelion and lilac wine fermenting in it right now, giving it a test run.  We don't have the building finished yet, or the licenses to sell, but I'm ramping up my home winemaking in preparation for going professional.
As far as the building goes- we do have a location.  Gita and I purchased a foreclosed building on East Lake Street last year and have fixed it up in order to rent the upstairs.
Downstairs, we have 1200 square feet of space waiting for us to fix it up.  1200 square feet with 9-foot ceilings, glass block windows and for some reason, an antique jail cell.    Not exactly the picture of a winery, but a unique space, large enough to accommodate all of the equipment for a small winery and a nice cool year-round temperature.
I'll post some photos as we make progress on the space, and as we go through the permitting process.  And in September, we hope to kick off the effort to raise the funds to buy the equipment with a Kickstarter campaign.  I'll post a link to that as well once we're a bit closer.
Stay tuned!