Our kickoff party- October 17th!
By Jeff on Monday, October 6th, 2014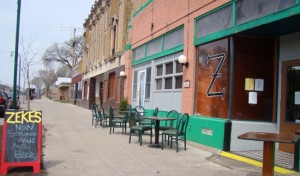 Kickoff will be at 6 PM October 17th!
Not the Super Bowl– no– this is much, much better.  The beginning of cider, mead and wine production on East Lake Street.
Will we be filling the vats that day?  No.  We'll be working on getting the vats that we'll eventually fill.  We need to fund the equipment that it'll take to make our products, to the tune of $19K.  We're hoping to do it through Kickstarter– the crowdfunding site, which has enabled so many other similar projects to get off of the ground.
Stop by and see us on Friday the 17th. and pledge to give $25 or $50 or more to make the winery a reality.   We'll have appetizers and samples of mead and cider on hand as well as a running tally of how the campaign is doing.
If you're not familiar with Zekes- they're a new bar and restaurant on Lake Street, 5 blocks from where we intend to start our business.  They feature an absolutely fantastic selection of beers from the Twin Cities metro and surrounding area.  I've discovered a few new good beers by having lunch at Zeke's and am excited to be kicking off our campaign there.
Hope to see you on the 17th!
Jeff