Our moment in the spotlight
By Jeff on Thursday, March 5th, 2015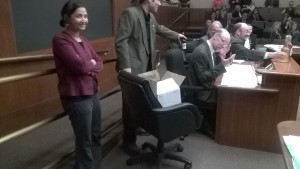 We had our chance to testify last night in front of the Minnesota House of Representatives Commerce Committee.  In my opinion, we knocked it out of the park!
Gita and I (that is, Jeff) testified as well as Fridley-based winemaker Emiro Sangiovanni, Minneapolis-based cider maker Tim Burman and surprise testifier Luke Zak who also aspires to own a cidery.  The MLBA- a lobbying group that represents distributors and liquor stores- also showed up to publicly oppose us- which is more than they've done in public before.  That may be a measure of how concerned they are that our bill may pass.
We made the following points:
We, Urban Forage, are a Mom and Pop operation, starting a family business with our own money, and the money we raised from Kickstarter supporters.  We are the face of small business in the city in 2015.  Much was made in the testimony before ours, by the MLBA, stating their concern for Mom and Pop liquor stores.  We requested the same  concern and consideration be given to Mom and Pop liquor producers.
Our goal is parity.  Farm wineries are currently able to produce a wider range of beverages, distribute their own products and pay only 1/10 of the license fee an urban winery pays under the current system.  We ask to play on a level playing field with them.
Urban wineries are the last class of alcoholic beverage producers to still be operating under the laws passed in the 1930's at the end of Prohibition.  Craft breweries, farm wineries and even distilleries have had state laws passed which make it simpler and less expensive for them to open a business and operate.  We request that we now be heard, and that HF 520 be passed or added to the liquor omnibus bill.
The laws passed in the last few years to allow greater freedom to craft brewers, farm wineries and microdistilleries have led to a greater variety of beverages available in Minnesota.  They've also created new tax revenue-generating businesses for the state.
Rather than leading to increased alcohol abuse as critics had warned before the aforementioned bills were passed, they have led to a greater focus on quality of beverage rather than quantity of consumption.  The majority of people are not drinking craft beverages to get drunk- they are drinking to explore new flavors and enjoy what they are consuming in a quality setting.
The good news is that our voice seems to have been heard!  We've had positive feedback from several legislators who saw us testify.  If you haven't yet written or called your state legislator please do!  Contacting state legislators really works, particularly if your legislator is on the Commerce committee- the group that will ultimately decide the fate of this bill.  The link to the page where you can find their information is right here.
If you want a template or a suggested letter for your representative, please email me at urbanforagewinery@gmail.com and I'll be glad to send you one!
Cheers,
Jeff