over the hill and through the woods
By Jeff on Monday, December 8th, 2014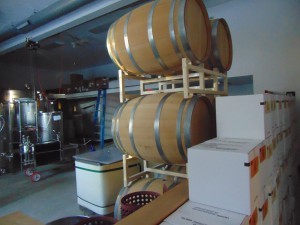 We had hoped to go to Grandmother's house this weekend, but as it turned out, she wasn't feeling well, but we still made the trip to the eastern side of Wisconsin to stay for a little while in a hotel and get away from home- and temporarily from all the things we need to get done at home and at the winery.
While in the fair state of cheese and beer, we took some time to see a couple of cideries that I've been meaning to visit for a while.
It was striking to see how small they both started- and how fast they've grown!   Both are or were near capacity in their spaces after four years- using  very similar equipment to what we are planning to purchase.  Both produce some very tasty cider and perry, and we brought home a few bottles that we'd like to sample (and share, maybe) again.
One thing that surprised me was how open and friendly the proprietors of both cideries were to us, even knowing that we're planning to open a similar business.  As one proprietor said "Having more people in the business makes everyone up their game."
And so it does.  The world of cider and mead is growing quick and we're going to be a small player in a rapidly expanding field.    But I can see that there's a huge unmet demand for high quality local  beverages.  Everyone is thirsty for some good cider, and looking for a source for mead.  Which is pretty encouraging.
We'll bring a new element to the cider and mead world by not using chemical shortcuts to preserve our products.  I haven't heard of anyone doing that yet- at least not in our region.
'And I'm excited to be starting this now, in a place like Minneapolis!  Now that we've had a chance to recover from the complete exhaustion that followed the end of the Kickstarter campaign (yes- it is exhausting.  Neither of us had any idea when we started) we're  back on the task of building the winery.
So- we are working on setting some dates and times you can pick up your gifts.  We do have some t-shirts available, and will soon have glasses and corkscrews.  We're also planning for the midwinter party and figuring out the finer details of the CSA.  Details to follow soon.
We're also working on the final buildout of the space.  There are sure to be some more obstacles, but we're meeting with a local architect this week to deal with them, as well as beginning the search for the equipment which was the whole point of this Kickstarter drive in the first place.
Thanks for traveling down this road with us.  It's a bit crazy, but a lot fun, if also a lot tiring at times.   But it's totally worth it.
Cheers!
Jeff