Regular hours have begun! Friday & Saturday 2-6 PM
By Jeff Zeitler on Tuesday, January 12th, 2016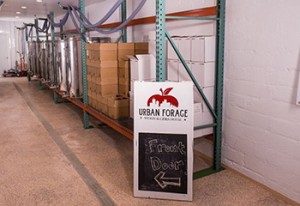 In case you haven't seen it on social media- we are now open on Friday from 2-6 PM, and on Saturdays from 2-6 PM.  We currently have 750 ml bottles of dry cider and semisweet cider on sale for $12.99 plus tax.  Stop in to chat and take home a bottle or a few.  Pick up your Kickstarter swag while you're there if you haven't done so already. If we have the time, one of us will gladly give you a tour.
We hope to have a limited-release cherry/apple cider soon.  We are working out the details of the CSA internally, and will let everyone know about the pickup schedule soon.
It's exciting to have a space where we can sell our cider and wine finally!  Phase 1 is now complete- and we're starting to plan for Phase 2- the taproom!
Cheers,
Jeff and Gita Z