Secrets revealed- my vegetarian chili recipe
By Jeff on Saturday, November 15th, 2014
We're entering a chili cookoff tonight- the  first ever for myself or Gita.
When I went to sign up for it, someone from the group organizing the event casually said- "Oh, if you make vegetarian chili, you should know that it never wins."
Gauntlet thrown down.
For the record, I am not a vegetarian, and neither is Gita, though we do tend to eat a lot less meat than most people.  I was, however, a vegetarian for a while in my 20's and during that time, I experimented a lot with vegetarian cooking.  And one thing that I learned to make really well during that time was chili– beany, tomatoey chili with lots of spice- and fake meat when it was available.
I remember one of my first batches was made with food scrounged from the neglected ingredients at the back of the U of M Student Co-op food cupboard.  A gallon-sized can of pinto beans.  A gallon of stewed tomatoes, and a mystery ingredient called Texturized Vegetable Protein, which most people were afraid to use– until they tried it in my chili.  I stirred it all up, with a lot of spices of course, in a 5-gallon stock pot and left it in the Co-op kitchen.  I knew it  was good when I checked the next morning and it all was gone.
Since then, I've made many batches of vegetarian chili, even after lapsing  back into meat eating.  I enjoy he challenge of making a really good meatless chili- even if I'm under no obligation to do so.  For that reason, I'm pretty excited to find out about the Herbivorous Butcher's meatless meat products- and excited to use them in a batch I'm making today for the Longfellow Chili Cookoff!
Herbivorous Butcher is a new company started by a brother and sister who don't eat meat and who found that their options were pretty limited when it came to imitation meat products.  Their kickstarter campaign started around the same time as ours and has been phenomenally successful so far- so I'm glad  to pair with them to make some chili for all the folks coming to the chili cookoff.
My recipe- which I am sharing  for the first time-  is as follows: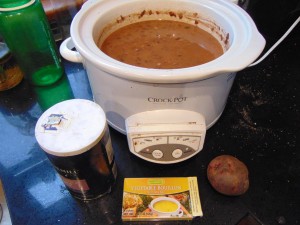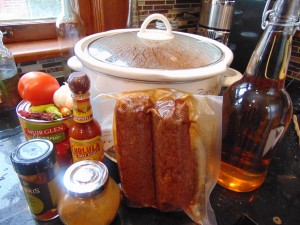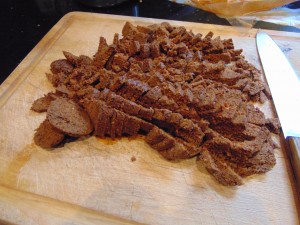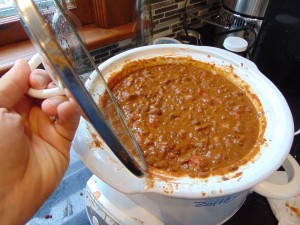 And it makes a full Crock Pot of chili- 5 quarts plus or minus
Ingredients:
4 cups Dry pinto beans
2 Vegetarian boullion cubes
1 tsp. sea salt
1 cup washed potato peels, chopped finely
I large can of chunky organic tomato sauce
2-5 small chili peppers
1-3 Ancho Poblano peppers, fresh or dried and reconstituted
1 tsp. paprika
1/4 cup brown sugar
1 tbsp. cumin
1 tsp. sesame oil
1 tbsp. olive oil
1 and a half cups of Urban Forage hard cider
I package vegan chorizo from the Herbivorous Butcher.
Cook the beans in veg. soup stock overnight w. the salt and potato peels in a slow cooker.
The next morning, add the other ingredients slowly and allow to cook for 4 to 8 more hours.  That's it!  The slow cooking is the key.
Enjoy!
Jeff