Speakeasy bottle sales once more.
By Jeff Zeitler on Thursday, March 2nd, 2017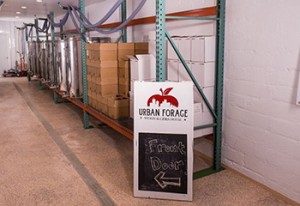 Contrary to what the sign says, for now you need to use the side door
So we're beginning to do some purging on the upper floor of the building in anticipation of work getting underway, That means, for now, we're moving our bottle shop back to the basement and asking you and all of your friends to use the side door to access us.
What's so great about this, you ask?
Well- consider that each time you come to shop, you'll get an extra super exclusive look at our winery production space, which is now much more full of equipment than it was when this picture was taken.  We've hardly been able to do winery tours while we were selling bottles upstairs, and now we'll be showing it off each weekend!
Another plus- the feeling of doing something sly and sneaky when you duck down the alley off of Lake Street between 30th and 31st Avenue to open an unmarked door, just to emerge 5 minutes later carrying a mysterious beverage.  Yes, it's all entirely legal, but you don't have to tell that to your kids.
We will, as always, be glad to see you and will have all the varieties shown on the Our Products page in stock.  A word of warning- Mead and Dandelion wine will be going away soon, so stock up if you're a fan.  Also- cherry cider will be on sale this weekend- buy 2, get another one free!  No coupon needed- just tell us where you saw the deal and we'll give it to you!
Cheers, and hope to see you soon.
Jeff and Gita Z