We host holiday parties!
By Jeff Zeitler on Monday, November 11th, 2019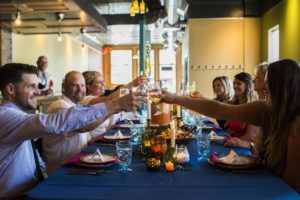 Yes we do!  We love holiday parties, and you can book the entire taproom for a 3-hour private party for a flat fee of $200.  Yes, really!  But only on a day or time we aren't open regular hours.  Call Jeff at (651) 235-2726 to book a date.
Small party?  Just call an hour ahead at (612) 584-4398  during our regular open hours, and we'll accommodate you for no extra fee (but please buy drinks from us!)
Aaand we promise to have some rather over-the-top holiday decor to go with the festive season.  You'll see soon!
Cheers