Wine and food and fun and the future
By Jeff on Tuesday, September 23rd, 2014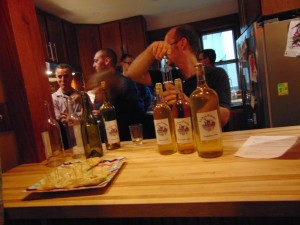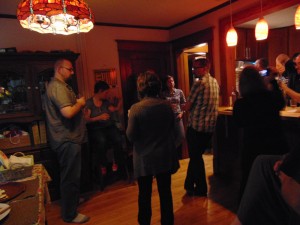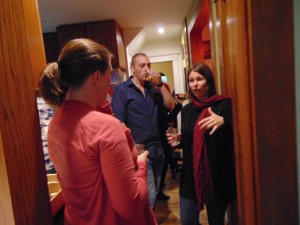 We had our first wine and food pairing party this last weekend and I have to say it was truly fantastic.
We put the invite out to everyone on our facebook and twitter feeds, and had a little over 30 people show up at our house for five Urban Forage wines, each paired with an appropriate hors d'oeurve.
Now, there isn't really a handbook on what to pair with carrot wine or dandelion wine, so I kind of guessed at it.  Asian seaweed salad and kimchee paired with the carrot wine as well as spinach spanakopita with the dandelion wine.  Brie and marmite with the lilac-dandelion wine,  and buttery potato-cheese pierogis with the tart apple cider.  And with the mead, a sweet bourbon-soaked barbecue chicken.
Kind of quirky pairings- but they all seemed to work.  Someone suggested salmon with the carrot wine- so I might try that next time.  And some horseradish and sour cream with the pierogis.  But even without the food- the wine would have done well.
Some post party notes- the mead is a big hit.  By far and away the crowd's favorite, followed by the lilac and dandelion wine.  The carrot wine got much more love than I expected- as a dry, vegetable-based wine, but the fact that it's so unique may have scored a few points in its favor.
It was really encouraging to see people enjoying the wine I've made and having fun.
That brings me to the future.  We're going to make this winery (and cidery and meadery) happen.  And we're going to need help.
We've put in a pretty large chunk of our life savings already into our building at 3016 East Lake Street.  We purchased it in February of 2013, with a pretty substantial down payment, only to find that it required a new furnace, air conditioner, and needed a new water line to the street.  We paid for all of the repairs out of pocket and took it as a cost of doing business.
We've rented out the street level for now, and that's helping us make back some of what we spent, but our calculations as to what the equipment for the basement wine, cider and mead production area will cost put us between $19,000 and $38,000.
That's more than we can swing at the moment without taking on more debt, which we're hesitant to do.  So we are doing what lots  of other small independent startup businesses are doing right now- kicking off a kickstarter campaign.
We'll be kicking off the campaign in mid-October as far as we can tell.  We'll be posting a video with our story, and a description of what sort of equipment we'll need to get started.  We'll also have some lovely gifts for those of you who generously donate to our equipment fund.
Thank you so far to all of you who have supported us with your compliments, well-wishes and encouragement.  I hesitate to ask you for money on top of that- but I'm going to anyway.  Because, as we are finding out- it takes a lot of it to start a business!
And our business will be making the best and most unique beverages in the Twin Cities.  If I do say so myself, it's worth stepping up to the table and pitching in a few Federal Reserve notes to see that happen.
Cheers, and happy fall!
Jeff and Gita