Work continues behind the scenes
By Jeff on Tuesday, January 27th, 2015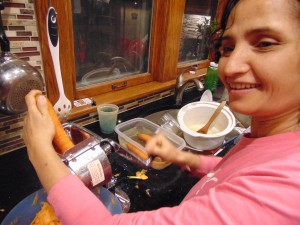 We've been quiet for a while now, in public at least.  But work is continuing behind the scenes.
Today I transferred our Kickstarter pledges to our new business account (yes, finally!) so it finally feels really real that we really did make enough money to cover our equipment costs as a result of this fundraising drive. It was a great feeling to walk into the bank with that check and see the numbers increase in our business account by a couple of digits.
That was the highlight of this Tuesday.  I've spent several other Tuesdays now at a friendly winery and cidery that has been willing to take me on as a part-time intern.  They're almost a two-hour drive away, so it's not somewhere I just pop into.  I go and work for a day and come home dazed with a head full of new information and ideas, an aching back and an itch to try out all these ideas on my own place.
But our place is going to have to be fully accessible according to the city of Minneapolis- including  the production space- so we're working on that right now.  We have an excellent architect on board- the same architect who is working on the design of the Herbivorous Butcher's space- and who is working with us to translate the codes surrounding accessibility and find a way to provide it without bankrupting us.  Because it isn't cheap.  Or fast.  And we're not up to doing another kickstarter campaign.
We're also working on determining exactly what equipment we'll need to buy new, and what we can pick up used.  There aren't a whole lot of 1000 liter fermenters or wine pumps for sale on craigslist, so we're planning to buy new or seeking them out wherever we can find them.  If you know of anyone selling equipment for use in a small to medium-sized winery, please let us know.  We'll be very interested in talking to them.
Next week, I head to the Cold Climate Conference in downtown Minneapolis- the conference dedicated to cold-climate winemaking and fruit production.  It should be fun and informative, and I'm hoping to make some connections (and maybe find some leads on used equipment).  Urban Forage is now a member of the MGGA- the Minnesota Grape Growers Association- because even though we don't grow or even use grapes to any great extent- they are the best local source for information and connections to the sort of thing we're doing.
CiderCon- the national conference of US cider makers is taking place in Chicago the same week.  I was invited to attend- and the offer was tempting- but at the moment we need to save our pennies for the buildout of the space, so that'll have to wait until another year.
Our test batches of cider, mead and wine continue to develop in our St. Paul basement.  I took a sample of our almost finished batch of scrumpy cider from our new stainless steel 300 liter fermenter to a dinner party last weekend.  I was a bit nervous, because one of the hosts was British, and a connoisseur of hard cider.  As it turned out- he really enjoyed it- and had seconds.  I was relieved.  My 2014 batch- the largest I've made yet- had passed the test.
So, while there may not be much happening on the surface, things are quietly happening beneath.  The pint glasses with our logo ($100 level gift) are on their way and should arrive in early February.  Stainless corkscrews ($25+ level gift) with logos have ordered, but delayed but should be in by the beginning of March.  The t-shirts ($50 level gift) are on order and should be ready soon.
June 6th is our tentative date for the rescheduled speakeasy party.  We'll have more information on that as it gets closer.
Thanks for being a supporter, and thanks for reading my updates!  I've enjoyed reading your emails, so feel free to keep sending them.
Cheers!
Jeff and Gita Z