Events
We're hosting a taste of the Longfellow neighborhood this Saturday as a part of our Grand Opening weekend!  Five restaurants representing 5 countries to showcase the remarkable diversity of our stretch of East Lake Street.  A ticket gets you an eclectic plate of food that pair surprisingly well with cider.
We'll have:
Nepali momos from Himalayan restaurant at 29th and Lake,
Bengali samosas from Gandhi Mahal on Minnehaha, just south of Lake,
Mexican tamales from Sonora Grill, 33rd and Lake,
Chinese eggrolls from Dumpling at Minnehaha and 40th (not Lake, but still in Longfellow)
South American empanadas from International Cuisine at 36th and Lake.
This Saturday from 12-2.  3016 East Lake Street.  Tickets here at Eventbrite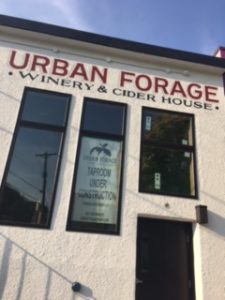 November 17!!
We will soon make an Eventbrite event announcement.  Of course you'll need a ticket- but you'll be glad you got one.
Come see our construction progress, have some new and unique ciders and get the first chance to sign up for our CSA and CFL programs!  Tickets are $10, but you get $15 off your membership if you buy it that night.
There will be more chances to sign up after the event, but this is our chance to start it off with a bang!  Tickets are at:
https://www.eventbrite.com/e/csa-and-cider-for-life-kickoff-tickets-3532873620: 
If you aren't able to make it on the 7th, but are interested in possibly signing up for the Cider for Life, the Growler CSA or Bottle CSA, go to this page to get more info: http://urbanforagewinery.com/now-serving/
Cheers!