About Urban Forage
Open for bottle sales from 2-6 PM each Friday and Saturday, Urban Forage is the first winery to be founded in the city of Minneapolis and St Paul since the end of Prohibition. Using crowdsourced fruit, flowers and honey as well as locally sourced fresh juice, we produce top quality hard cider, honey mead and fruit wines. By the beginning of 2017, we'll add a taproom for your enjoyment.
Gleaning fruit from a decentralized city orchard will require significant community engagement and partnerships. We welcome making these connections. They make our company unique and our mission worth doing. They deepen our roots in the community. We think that's really important.
Cider, wine and mead have been made for millennia without the use of a chemistry set. We look forward to adding to the selection of gluten-free and chemical-free 'natural' wines and ciders that are rare but growing in popularity.
The Owners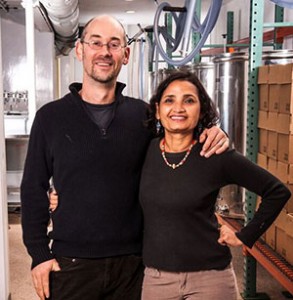 One of Jeff's earliest memories is of his dad's two five-gallon carboys that sat underneath the staircase in the basement. Full of a rhubarb wine that was amber in color, that big jar of spirits mesmerized the young boy. Once off to college at the University of Minnesota, Jeff "borrowed" his dad's book on winemaking and made one of his first batches using mulberries "because they were free for the taking everywhere you looked" and a 5-gallon bucket snapped up before it hit the trash at the cafeteria. It's a resourcefulness that Jeff has never outgrown.
As a board member of his neighborhood council, five years ago Jeff led the effort to start an organic community garden and remained as its lead coordinator for two years as the fledgling organization got off the ground. Before that, Jeff helped start the Eastside Food Co-op. So our landscape-architect-by-day has a long history of organizing around local food and sustainability issues. It was only a matter of time before Jeff's 20 years of experience making wine would be incorporated into this passion.
Gita loves her job as a Public Health Nurse. A native of the beautiful nation of Nepal, she brings a taste for the spicy to the Urban Forage line of products. In addition to contributing to recipe development, Gita is a brilliant numbers cruncher and keeps tabs on the business side of winemaking. Happy to roll up her sleeves to put in time at the apple grinder or gleaning fruit, she considers "the work" to be some of the best quality time she spends with her family. She's also an unabashed promoter. If it looks like you can't get to harvesting the apples on your tree, don't be surprised to see Gita knocking on your door with an offer you can't refuse!
This February, Jeff and Gita Zeitler  celebrated their 10-year wedding anniversary with their two kids who are developing a love for organic gardening and foraging alongside their parents. The family lives in the Merriam Park neighborhood of St. Paul, just over the bridge from their business in Minneapolis.